John E.S. Cochrane Golf Schools
Bloomingdale's beautiful, spacious Golf Training Center with professional instruction by Cochrane Golf Schools puts the Club squarely on the map as one of the elite golf instruction facilities in Central West Florida. No matter what your age or ability, there's a training program that can be designed specifically for you. Whether you choose private or group instruction, even if this is your first time picking up a club, our golf instruction program will fit your needs. A series of golf lessons will improve your full swing and short game in all areas. Our private playing lessons focus on golf course management, with emphasis on evaluating your psyche before, during and after play.
Cutting Edge Learning with Video Swing Analysis
Watching your swing on camera is one of the best ways to see how you are doing and where you need to go with your golf swing. Our high-tech video analysis allows us to take your potential a step further by seeing your swing frame-by-frame and charting your set-up, grip, spine angle, posture, swing plane, release point and other aspects of the golf swing.
See Improvements
If it is your first time playing golf, we will help you get off to a positive start that will provide the foundation for many years of enjoying our wonderful sport. And if you've been at it awhile and want to keep improving, our professional instruction is designed to be enjoyable, informative and adaptable to your own personal style.
Award-Winning Junior Golf
The Cochrane Golf Schools is home to a wide variety of programs for junior golfers, including fundamentals, intermediate and tournament readiness programs along with summer camps.
Click here to learn more about our Junior Golf Programs>
For rates and lesson packages with Cochrane Golf Schools' instructor J.D Carino, please Click Here>

For more information about Cochrane Golf Schools, visit: CochraneGolfSchools.com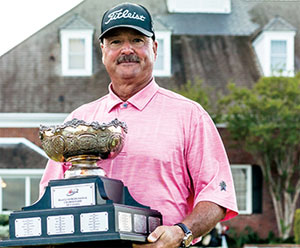 John Cochrane founder of the Cochrane Golf School and winner of the 2017 PGA Club Professional Championship of Canada